Due to COVID-19 restrictions and the Lawrence Livermore National Laboratory being in Reduced Mission-Critical Operations, the Biotech Summer Experience has been cancelled for 2020.
This two-week program engages high school students in an authentic research project in molecular biology and bioinformatics. It focuses on the isolation, characterization, and DNA sequence analyses from the aquatic plant, Landoltia punctata. 
High school students work in a laboratory learning to isolate and purify plasmid DNA, and perform PCR (polymerase chain reaction), restriction digests, and gel electrophoresis. Students analyze gene sequences with the same bioinformatic tools used by scientists worldwide. Student DNA sequences are submitted for publication in the international DNA repository, Genbank, with each published sequence acknowledging the student by name. Students are strongly encouraged to bring their own laptops to the workshop.
Students must be a U.S. citizen and 16 years or older by the start of the workshop and have their own transportation to and from the workshop. Applications are competitive and space is limited. Lunch is not provided. Students may bring lunch or purchase onsite. Students are supervised through the lunch hour. The cost of the workshop is $25.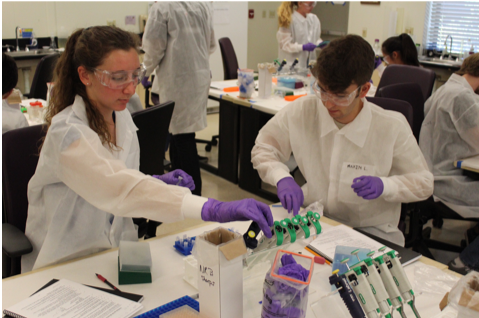 When:  
Weekdays, July 13–24, 2020
8:30 am to 4 pm

Where:
Edward Teller Education Center
Greenville Rd/Eastgate Dr
Lawrence Livermore National Laboratory
Livermore, CA. 
* Students must have a cumulative GPA of 3.3 or higher to apply

All materials must be submitted online by May 20, 2020 to be considered and include the following:
1) Application
2) Most recent high school transcript; unofficial copy will be accepted
3) Letter of recommendation from a recent high school biology or chemistry
    teacher from the current or previous school year