Due to the COVID-19 pandemic, the Biotech Summer Experience will be offered as a virtual program for summer 2021, weekdays, July 12–23, 2021, 9 am–1 pm.

This two-week, half-day program aims to engage high school students in an authentic research project in bioinformatics and molecular biology. It focuses on DNA sequence analyses of genes from a fresh-water aquatic plant that is of interest to the scientific community, Landoltia punctata, and how these genes compare to those found in other species. No laboratory experiments will be performed during this program, but students will gain knowledge and understanding of many techniques used in molecular biology. 

In between the on-line sessions, students are expected to work on their bioinformatic background by reviewing online videos and lecture notes, taking quizzes and completion of the bioinformatic analysis component each day.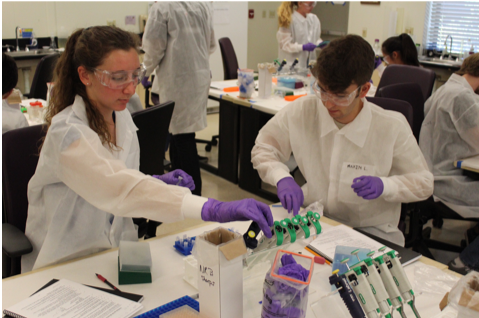 Students who are accepted into the program will:
participate in on-line seminars 
analyze gene sequences from DNA fragments using the same bioinformatic tools used by practicing scientists worldwide
submit approved DNA sequences for publication in an international repository, with each published sequence acknowledging the student by name
Students must be a U.S. citizen and 16 years or older by the start of the workshop. Applications are competitive and space is limited. There is no cost to attend the workshop.
* Students must have a cumulative GPA of 3.3 or higher to apply
All materials must be submitted online by May 21, 2021 to be considered and include the following:
1) Application
2) Most recent high school transcript; unofficial copy will be accepted
3) Letter of recommendation from a recent high school biology or chemistry
    teacher from the current or previous school year should be emailed separately to stem-education@llnl.gov
---